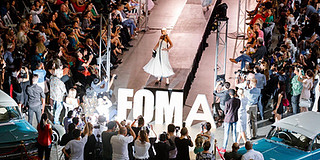 Fabrics of Multicultural Australia (FOMA) is a sustainable platform that stimulates economic growth for the creative sector and generates bilateral trading opportunities while fostering social cohesion.
Zohar is delighted to participate in FOMA 2021 and feels deeply honoured to be the first Israeli designer representing the Israeli Embassy in this magnificent multicultural event.
Coming out of Israel as a scientist, a country of innovation and great creativity however representing it, as a jewellery artist is indeed a culmination of a tremendous personal and spiritual achievement.
In this collection Zohar creates a unique celebration of a revitalising transformation in body (gemstones), soul (pearls) and spirit (Judaica- Hebraic elements of great meaning), alchemically rewired in Silver, yellow and rose gold, echoing a conscious feeling of wholeness and peace Thank you to FOMA for creating this special opportunity, and to the Embassy of Israel for supporting my attendance at this meaningful event.